Well it's not everyday that you get the opportunity to rebrand a company established in 1927, steeped in tradition and a local institution almost.
Having recently come under new ownership, we were approached by the client to facelift the brand with a view towards them better embracing the modern market place together with Social Media and an online ecommerce prescence.
So we approached the brief with "kid gloves", knowing how careful we'd have to be to maintain the integrity of the brand whilst giving it a new look. Taking the brief to the team on "Think Tank Tuesday" we kicked around all kinds of ideas and concepts and opted to go the retro/classic  route.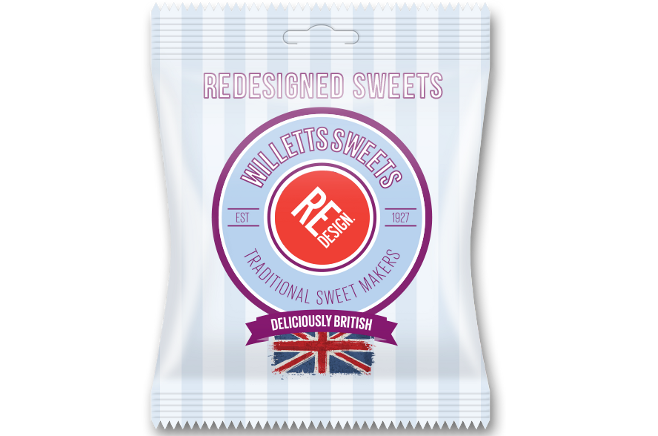 We wanted to get under the skin of the brand, the people involved and what made it all tick and so arranged a factory visit where we were shown around and had the pleasure of meeting Ron, the main man and Chief Sugar Boiler who has been with the company for – wait for this……………… 55 years! Now don't tell him and am not sure if he is aware but he  inspired Willy Willett who now has pride of place on the Willetts Website.

Sugar candy stripes and some pastille colours were the order of the day with a traditional typeface intertwining a modern twist. Circular classic logo that would lend itself to versatile useage on packaging and labels, stationery and the new website. (We were pleased to be able to use the circular cut out for the sweet jar labels, showing off the product inside the jar).
With some cheeky business cards and  distinctive, functional stationery, the guys were now getting pretty much well set as we went on to get our teeth into the new website.
The site utilises a membership (lead collection system) to allow display of product pricing that is aimed predominantly at the retail sector.
Sam is ensuring the site is now getting some really good exposure and the business seems to be picking up some traction, recently picking up a significant order that aligns the brand with another nationally recognised product.  The feedback has been tremendous from our client who went onto to say "we really don't know how to thank you guys".
Well Ron, get that boiler on son, them little Sour Fish fellas are my favourite!