On a recent trip to Zakynthos I was lucky enough to experience one of the best examples of how to maintain and carry a brand on a day that turned out to be unforgettable. Just after breakfast whilst settling on the sunbed at the hotel, we were visited by Ian (a rare character from London who now spends his time equally between Zakynthos and Argentina). Ian is the face of Zante Levante (headed up by the memorable Captain Spiros) and is responsible for selling tickets for the speedboat excursions.
He has an inoffensive selling style and is genuinely interested in the people he talks to whilst doing a great job of putting bums on seats for two boat trips per day. At an asking price of €40 per seat, it would have been wrong for a proud Yorkshireman like myself not to try and "chip" him a bit but he was having none of it and I ended up getting my leg in for a swift €120 and we were booked for cruising and turtling on Saturday afternoon. I was later to find out why he wouldn't budge on price.
A baking hot day, we were greeted by the larger than life Captain Spyros who ordered all passengers to take off their footwear before climbing aboard his superb, powerful speedboat that we later found out he built himself. In a firm but polite way he made it clear who was the Captain of said boat and what the rules were if you were to sail with him. With a broad smile he made a fuss of the ladies and children and touted for volunteers to sit on the front of the boat. Takers were slow so I decided I'd be having a bit of that and what a great decision that turned out to be.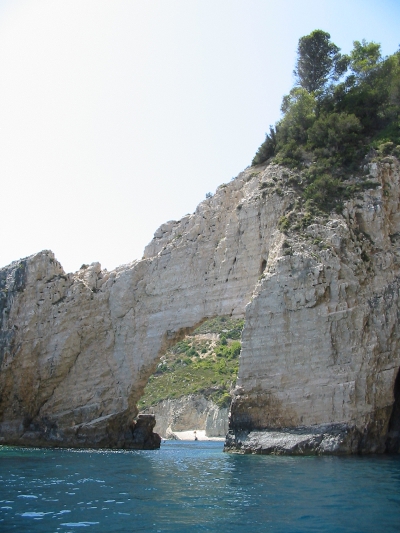 Accompanied by his two outstanding crew members, off we set across the ocean with his trademark sounding of the horn and waving from all in proximity. It was absolutely thrilling and very peaceful at the same time. As the journey progressed and we sped along the coastline he took great care to explain any of the sights we passed, injecting nuggets of information that generated genuine interest. He then invited each of the ladies on the boat in turn to take the controls and engaged in deep, jovial conversation with each whilst they navigated.
Most trips promise sight of the renowned Turtles off Turtle Island but not all deliver. Captain Spiros guarantees you'll see them and we did. Careful scanning, engine calming and bait throwing and we saw about half a dozen or so. He even told us just when they were about to rise to the surface for photo opportunities. From there to Turtle Island which is pretty much protected as a breeding area and houses one of the best floating bars I've come across. What a venture that is with a captive audience!
Numerous other people were on the island and all under the careful watch of Spiros as we pulled up. Anyone he spotted dropping litter or breeching the cordoned areas got a blast of the horn and a few words to the wise from this proud Zakynthian. I spotted him a couple of times picking up small bits of litter throughout the journey and shouting for the boat's fishing net to hook out a stray piece of paper as we negotiated caves and rocky outcrops.
His constant beam of a smile, assuredness with the navigation and his natural way with people ensured everyone on board got their full €40 worth and more. "If you've enjoyed the trip" he said, "tell your friends and you can leave some feedback on Tripadvisor too". I think the feedback here speaks volumes. What a really great day!
For me he's The Brand Ambassador – Captain Spiros Zante Levante. The knowledge, the way he drives the boat and his love of Zakynthos and people. Pure Class!